The 24th
International collegiate Virtual Reality Contest
Final stage: 29-30 October 2016
Second stage: 15(9:15-12:00)-16(9:15-15:00) September 2016
Proposal for contest: 17:00(JST), 17 June 2016
Final deadline of international video submission: 9 September 2016 31 August 2016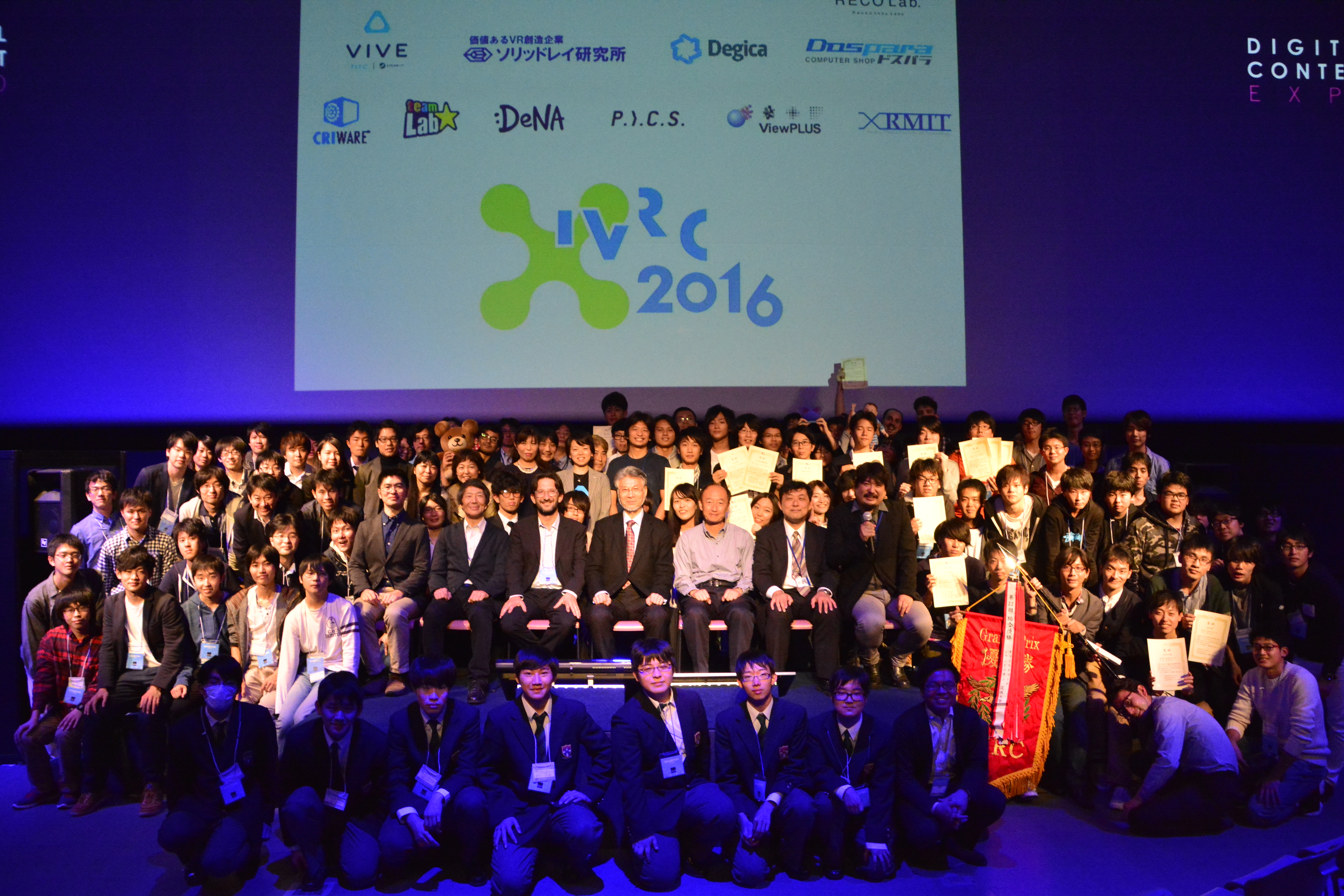 News
Welcome
International collegiate Virtual Reality Contest (IVRC) is the competition of interactive products presented by students. The juries will evaluate the originality, technical challenge and impact of the presented work. Since 1993, many innovative technologies of virtual reality have been presented by the works on IVRC.
The challenger must submit a plan of the work. After acceptance, the challenger must demonstrate the proposed work. The challenger will have a chance to communicate with professional researchers to complete the plan. In the final stage of the competition, the juries will select the winners through the experience of the work.
When you hear the words such as "Virtual Reality" and "robot", you should feel that special expensive machines are nessesary to realize them. Though, there are many ideas which can be actualized only with handmade machines. The main purpose of this contest is for participants to gain deeper understanding of and familiarity with interactive technologies through activities such as planning interactive systems, making devices themselves, and improving quality of their contents.
IVRC is not only a contest, but also the cooperative attempt of district, industry, and academy, to construct the new education system of the 21st century to develop the excellent human resources, who can think, learn, and work for themselves.
Schedule
General Submission
Proposal for contest
Deadline: 17:00(JST), 17 June 2016
Second stage (Prototype demonstration in VRSJAC 2016)
Final stage (Demonstration in DCEXPO 2016)
Setup: 28 Oct. 2016
Exhibition: 29-30 Oct. 2016
International Video Submission
Final submission deadline: 31 Aug. 2016
Final notification of acceptance: 16 Sept. 2016
This year, the jury committee will judge the submissions on a first-come-first-judged basis. Early submitter may have a chance to get acceptance before the final notification date.
BoF@SIGGRAPH
International Collegiate Virtual Reality Contest (IVRC)
Sunday, 24 July, 10:00 am – 11:30 am, Anaheim Convention Center, ACM SIGGRAPH Theater, Hall C
International collegiate Virtual Reality Contest (IVRC) is a long-lasting academic event in virtual reality since 1993. This BoF shares latest activity of IVRC between Japan, France Laval Virtual.
Akihiko SHIRAI, Ph.D ( IVRC Executive committee / Kanagawa Institute of Technology )
ivrcinfo@ivrc.net / http://ivrc.net/2016/en/
Agenda – "Researchers in VR from student competition"
10:00-10:05 Opening
10:05-10:15 Susumu TACHI (Univ. of Tokyo): IVRC (tentative)
10:15-10:30 Masahiko INAMI (Univ. of Tokyo, E-Tech Chair): SIGGRAPH E-Tech (tentative)
10:30-10:45 Hiroo IWATA (Univ. of Tsukuba): Striking Back To SIGGRAPH
10:45-11:20 Panel video session: Memoires – IVRC to SIGGRAPH
Panelists

Hideyuki ANDO (Osaka Univ.)
Hiroyuki KAJIMOTO (Univ. Electro Communications)
Hikaru TAKATORI (Univ of Tsukuba) CHILDHOOD to BigRobot
Shota SUGIMOTO (Keio Univ.) Jack and Beanstalk
Guy LeBras, Laval Virtual

11:20-11:25 Announcements
11:25-11:30 Conclusion / Photo session
Regulations
Work
Must be interactive
People must be able to experience and interact
Experience must fit in a 1.8m(W)*1.8m(D)*2.0m(H) booth
New interactive experience – never previously done
New input device is not necessary though it is preferable to off the shelf device
Use of wireless network is ok
No use of fire, gas or anything dangerous
No infringement on copyright (images, music, etc.)
Team member
Open to high school, undergraduate and graduate students of university
No age limit
(international video submission) More than half of team members live outside Japan
Exhibition
Must be exhibited at the final competition in Tokyo on 29-30 October 2016
How to submit?
General Submission
The proposal must be submitted via the IVRC website.
(submission closed)
Basic information about your submission
A one-page summary
A proposal document
Agreement document
payment certificate
International Video Submission
CFP is available: IVRC2016-video-cfp.pdf
The proposal must be submitted via the IVRC website.
Please check the international video submission page.
A representative video of your work (maximum 5 minutes) is mandatory.
IVRC Award in Laval Virtual
After the pre-reviewing process after your entry, we will physically review your demo in Laval Virtual by Jury. We will announce the best candidate in the Award event in Laval Virtual 2016 as "IVRC Award in Laval Virtual".
Winner
A night stroll in the Alps (Team Alps, France)
Aim of project:
Our project consists of a virtual visit of a mountain area. The objective is to discover the wildlife living in this landscape. We have created an educational interactive application which offers the possibility to feel the nature from the animal's point of view. By playing with different scales, the challenge was to create an immersive experience in order to learn in an innovating way, using interactivity between people.
Innovation and Presentation:
Our starting point was an observation : a virtual reality experience is usually designed for only one individual. We thought about how we could have created some interactions between the person with the head-mounted display (HMD) and the people around. So we chose to include both physical interactions and an exchange of information.
How it works?:
For the physical interactions, we built a prototype chair, mounted on a big spring. It allows people around it to move it from left to right as well as up and down. The position of the camera is synchronized with the movements of the chair. Thus, the immersion of the user with the HMD is increased.
People around the chair can also send information to the virtual scene. Via a tablet, they can test their knowledge and share it with the person wearing the HMD, to help him to move forward in the experience.
This way, people around the chair are not just waiting for their turn. They become actors in the virtual experience.
Press release by EON Reality Inc.
IVRC Award in Laval Virtual 2016, Jury Committee
Akihiko SHIRAI, Ph.D (IVRC Executive Committee / Kanagawa Institute of Technology)
Organizers
IVRC executive committee, Virtual Reality Society of Japan
Chair
Susumu Tachi (Tokyo University)
Vice chairs
Hiroo Iwata (Tsukuba University)
Hironao Takeda (VR consultant)