International collegiate Virtual Reality Contest
Call for International Video Submission
Final stage: October 29-30, 2016
Final deadline for submission: September 9, 2016 August 31, 2016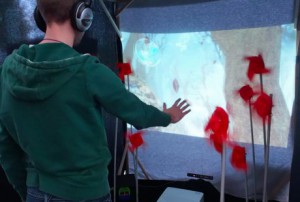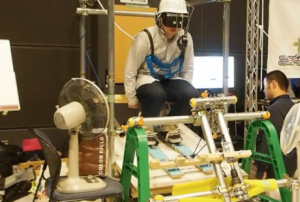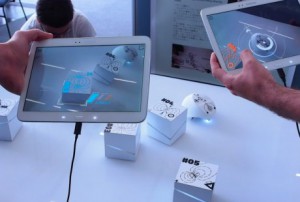 Welcome
International collegiate Virtual Reality Contest (IVRC) welcomes you to submit your innovative work to the worldwide competition of novel interactive projects.
The contest has more than twenty years history and several past winners of the contest have been accepted by the world's most notable competitions of interactive technologies such as ACM SIGGRAPH Emerging Technologies, Laval Virtual Revolutions, and Ars Electronica. Here are some introductory video clips:
Your proposal will be reviewed based on the submitted materials including demonstration video. If your project is accepted, we will offer you a live demonstration space in the final competition held with Digital Contents Expo 2016 in Tokyo.
We are eagerly waiting for your innovation and passion!
Important Dates
Submission site open: June 20, 2016
Final submission deadline: September 9, 2016 August 31, 2016 (*)
Final notification of acceptance: September 16, 2016
Installation: October 28, 2016
Competition: October 29-30, 2016
(*) This year, the jury committee will judge the submissions on a first-come-first-judge basis. Early submitter will have a chance to get acceptance before the final notification date.
Regulations
Work
Must be interactive
People must be able to experience and interact
Experience must fit in a 1.8m(W) x 1.8m(D) x 2.0m(H) booth
New interactive experience – never previously done
New input device is not necessary though it is preferable to off the shelf device
Use of wireless network is ok
No use of fire, gas or anything dangerous
No infringement on copyright (images, music, etc.)
Team member
Open to high school, undergraduate and graduate students of university
No age limit
More than half of team members live outside Japan
Exhibition
Must be exhibited at the final competition in Tokyo on October 29-30, 2016.
If it is difficult to show your work in Japan, you should withdraw it as soon as possible.
How to submit?
The proposal must be submitted electrically via the IVRC website.
For submission, you need to give us the following information:
General information

Title of your work
Team name, members, affiliations, and contact address
Executive summary (50 words or less)
Keywords

Detailed description of your work

Aim of project (200-400 words)
Innovation and presentation (200-400 words)
How it works? (200-400 words)
A representative video (maximum 5 minutes, 200MB)
Additional material (optional)

Required information for exhibition

Floor plan
Logistics plan
One image for print publication (300dpi, 1500×1200) (required after acceptance)
Evaluation
All submissions to the competition will be reviewed by the jury committee, which consists of academic and industrial professionals of engineering and art, according to the following criteria:
Originality
Novelty in technical and artistic sense
Creativity
Bringing about interest and excitement
Feasibility
Competition rate of implementability to realize your concept
Safety and logistics for abroad
The project must be suitable for oversea exhibition
Unfortunately we are able to accept only a limited number of works. After the reviewing process, we will send a notification of acceptance or rejection by e-mail.
This year, the jury committee will judge the submissions on a first-come-first-judged basis. Early submitter will have a chance to get acceptance before the final notification date.
Exhibition and Final Competition
The presentation style in IVRC final competition is an interactive demonstration. The final competition will be held in conjunction with Digital Contents Expo 2016 (DCEXPO2016). Last year this event had about 45000 attendees in four days. Several winners of the IVRC semi-final in Japan will participate in the final competition.
You are responsible for ensuring that your demonstration is operated during all opening hours of the final competition. Presenters are expected to cover their own travel and shipping costs. IVRC may be able to provide some student volunteer support for your exhibition in Japan.
Date
October 29(Sat)-30(Sun), 2016
Venue
National Museum of Emerging Science and Innovation (Miraikan)
2-3-6 Aomi, Koto-ku, Tokyo 135-0064, JAPAN
Links
DIGITAL CONTENTS EXPO: http://www.dcexpo.jp/en/
Miraikan: http://www.miraikan.jst.go.jp/en/
About IVRC
IVRC is the acronym of "International collegiate Virtual Reality Contest", which has been held since 1993 and is the contest of interactive products using advanced technologies such as virtual reality and robots. Our English name changed for internationalization in 2004, because we began to invite awarded teams from the French VR contest "Laval Virtual".
When you hear the words such as "Virtual Reality" and "robot", you should feel that special expensive machines are necessary to realize them. Though, there are many ideas which can be actualized only with handmade machines. The main purpose of this contest is for participants to gain deeper understanding of and familiarity with interactive technologies through activities such as planning interactive systems, making devices themselves, and improving quality of their contents.
IVRC is not only a contest, but also the cooperative attempt of district, industry, and academy, to construct the new education system of the 21st century to develop the excellent human resources, who can think, learn, and work for themselves.
Organizers
IVRC executive committee, Virtual Reality Society of Japan
Chair
Susumu Tachi (Tokyo University)
Vice chairs
Hiroo Iwata (Tsukuba University)
Hironao Takeda (VR consultant)
Supported by
Ministry of Education, Culture, Sports, Science and Technology in Japan
Ministry of Economy, Trade and Industry in Japan
Questions?
If you have a question, please feel free to ask us:
e-mail: ivrcinfo [at] ivrc.net
IVRC official web site: http://ivrc.net/2016/en